DSL FiberNode - Lite 6 Unlimited
Home
>
DSL FiberNode
>
Lite 6
>
Unlimited
Suitable for web surfing and email along with lots of video or audio streaming, our Lite 6 Unlimited Internet service has NO monthly data usage limit!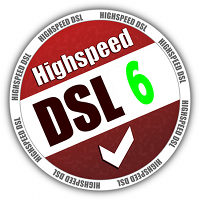 $29.99 one time installation fee
Static IP included
UNLIMITED data usage
NO CONTRACTS OR HIDDEN FEES!
Dry loop required if no active classic land line, $5 / month in urban or $10 / month in rural areas.
Up to 6 Mbps DL speed
Up to 0.8 Mbps UL speed
Qualify
Qualify